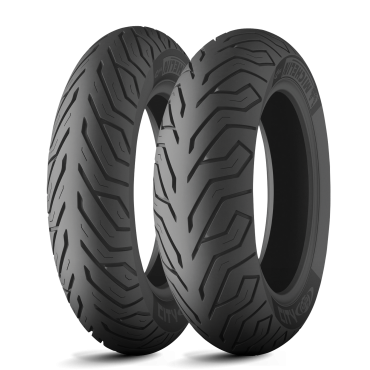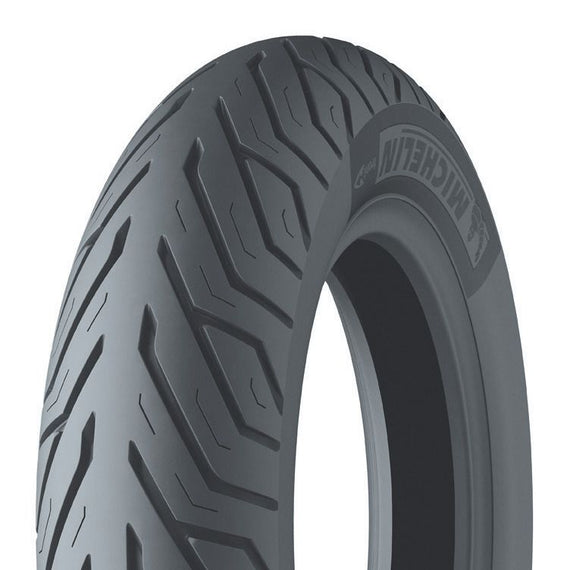 Michelin City Grip Scooter
MICHELIN have, for the first time, utilised the PST technology in the production of a tyre destined for use with a scooter. The continuous, fine capillary tread breaks the surface tension of any water layer, no matter the condition of the rest of the tread pattern. These have also been increased along the tyres shoulder, making cornering even more predictable, and consequently also safer.
These 'City Grip' tyres make sure you are best equipped to deal with wet roads, cobblestones and slippery street markings without any upsets! As proof of their superior performance these tyres have already received world-wide manufacturers approval for use with over fifty separate models of scooter, amongst others, they are already standard equipment on the PIAGGIO MP-3 three-wheeler. A version of this tyre (GT), especially developed for use with the Vespa GT is also available, to meet its own individual demands and specifications.
Front
Width
Height
Type
Diameter
M/C
(Load / Speed Index)
Tubes
Letter

 

110
70
-
11
M/C
45 L
TL
 

 

110
90
-
12
 
64 P
TL
 

 

120
70
-
12
 
51 S
TL
 

 

120
70
-
12
 
51 P
TL
 

 

110
70
-
13
M/C
48 P
TL
 

 

110
90
-
13
M/C
56 P
TL
 

 

120
70
-
14
M/C
55 S
TL
 

 

120
70
-
14
M/C
55 P
TL
 

 

120
70
-
15
M/C
56 S
TL
 

 

100
80
-
16
M/C
50 P
TL
 

 

110
70
-
16
M/C
52 P
TL
 

 

110
70
-
16
M/C
52 S
TL
 

 

110
80
-
16
M/C
55 S
TL
 

 

120
70
-
16
M/C
57 P
TL
 
Rear
Width
Height
Type
Diameter
M/C
(Load / Speed Index)
Tubes
Letter

 

120
70
-
10
M/C
54 L
TL
 

 

120
70
-
11
M/C
56 L
TL
 

 

120
80
-
16
M/C
60 P
TL
 

 

130
70
-
12
 
62 P
TL
 

 

130
70
-
12
 
56 P
TL
 

 

130
70
-
13
M/C
63 P
TL
 

 

130
70
-
16
M/C
61 P
TL
 

 

140
60
-
13
M/C
63 P
TL
 

 

140
60
-
14
M/C
64 P
TL
 

 

140
60
-
14
M/C
64 S
TL
 

 

140
70
-
14
M/C
68 P
TL
 

 

140
70
-
14
M/C
68 S
TL
 

 

140
70
-
15
M/C
69 P
TL
 

 

140
70
-
16
M/C
65 S
TL
 

 

140
70
-
16
M/C
65 P
TL
 

 

150
70
-
14
M/C
66 P
TL
 

 

150
70
-
14
M/C
66 S
TL